You may have been asked to provide Zip code for Nigeria when filing forms online. Many people mistakenly think that 234 is the Nigeria Zip Code. However, what you should provide as Nigeria ZIP Code is the postal code of your state. For example, Lagos state zip code or Abuja zip code, any of 110001, 300001, 400001, 900001  should work. Note, 234 is actually Nigeria's international phone dialling code.
What is Zip Code?
ZIP Code (Zone Improvement Plan Code) is a postal code used by the United States Postal Service (USPS) to designate locations for mailing services. It was introduced in 1963 and the basic format consists of five digits. However, an extended format called ZIP+4, that includes the five digits of the ZIP Code, followed by a hyphen and four digits that designate a more specific location was introduced in 1983.
What is Zip Code for other countries?
In other countries Zip Code is same as Postal Code. Whenever you're prompted to enter a Zip Code, just enter your postal code.
What is the Nigera Zip Code?
When anyone asks for Nigeria zip code list, you should provide a list of all Nigeria postal codes for different states. Some of them are 110001, 300001, 400001, 900001, 420001 and so on see below for specific zip codes/postal codes for each state.
The Difference Between Nigeria Zip Codes and Postal Codes
ZIP Code is used specifically in the United States of America for mailing services. However, outside the United States, many other countries including Nigeria use Postal Code.
The postal code in Nigeria and other countries is America's equivalent of the ZIP Code.
How to Get Zip Code of Your Location in Nigeria
The Nigerian Postal Service provides an interface to help you get the specific zip/postal code of your Town, Area or Street. Follow the steps below
Go to Nigerian Post Code Website Click Here
Select Search By Urban Location or Search By Rural Location

For Urban Location: Select your State, Town, Area, Street
For Rural Location: Select your State, LGA, District and Town

Click on Get PostCode to submit
Your postal code will be displayed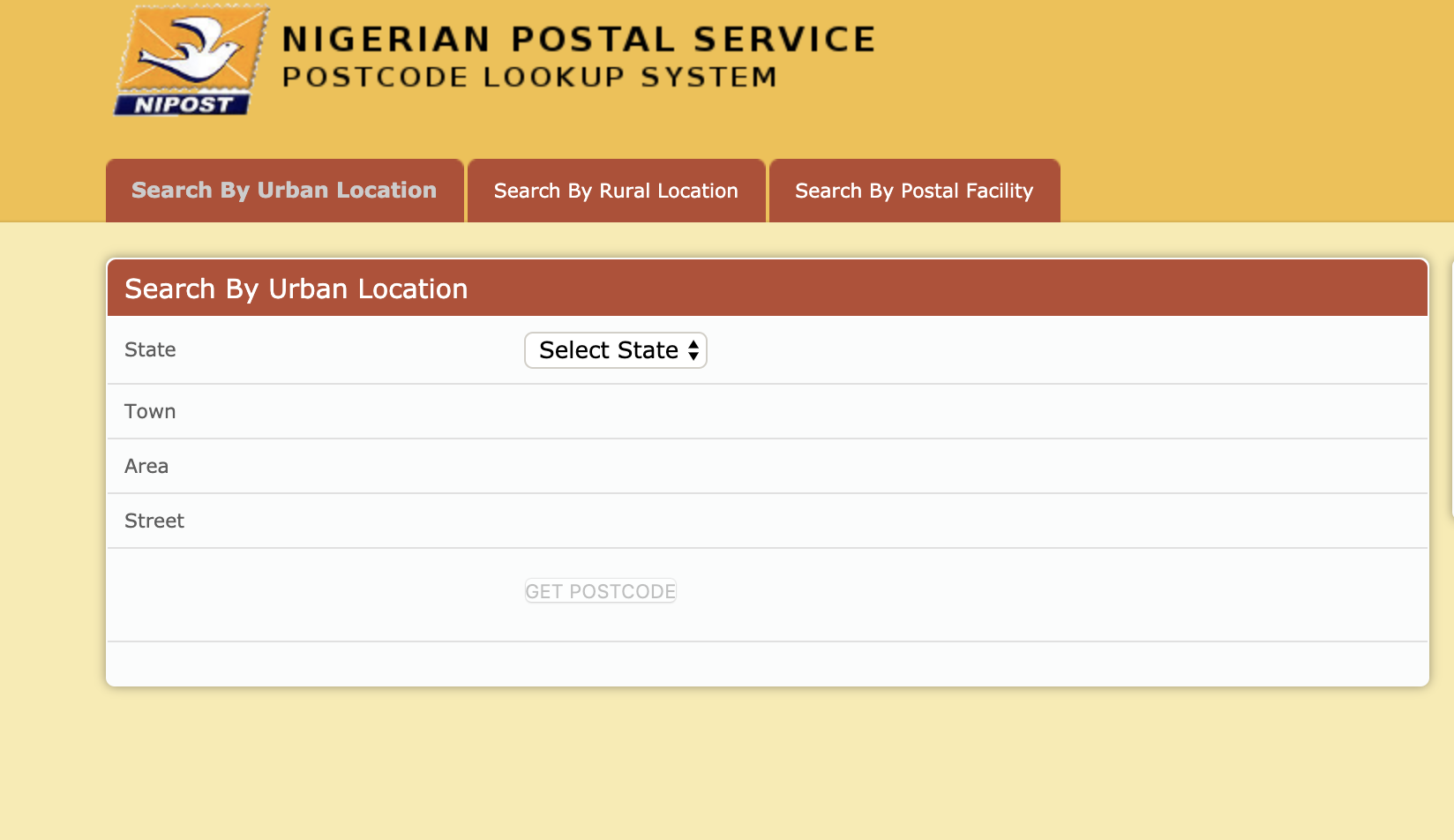 What is the zip code of Lagos?
The Zip Code of Lagos is either 101001 for Lagos, Island or  100001 for Lagos, Mainland
Postal Codes / Zip Codes For States in Nigeria
Abia State  – 440001
Abuja FCT –  900001
Adamawa – 640001
Akwa-Ibom – 520001
Anambra – 420001
Bauchi – 740001
Borno  – 600001
Cross-River – 540001
Delta – 320001
Ebonyi – 840001
Edo  –  300001
Enugu – 400001
Imo  –  460001
Jigawa – 720001
Kaduna  – 8000014
Kano  –  700001
Katsina – 820001
Kebbi –  860001
Kogi  – 260001
Kwara  – 240001
Lagos, Island – 101001
Lagos, Mainland – 100001
Niger  – 920001
Ogun  –  110001
Ondo –  340001
Osun  – 230001
Oyo  –  200001
Plateau – 930001
Rivers –  500001
Sokoto – 840001
Taraba – 660001
Yobe  – 320001